INDUCTEE 2015 - Kimberly O'Gorman Menges graduated with at least a share of seven William Smith field hockey game, season, and career records. She compiled a then career record 58 goals and 19 assists for a then record 135 points.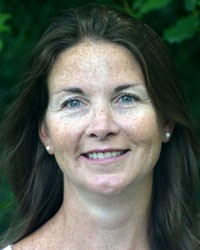 O'Gorman Menges currently ranks third in career goals, fourth in career points, and 12th in career assists. As a sophomore, she broke the Heron season records for goals and points with 11 and 25, respectively. The following season, O'Gorman Menges matched her goals record, broke the assists mark (9), and raised her points standard to 31, earning CFHCA All-Region honorable mention. She saved her greatest performance for last.
As a senior, Kim O'Gorman Menges obliterated her own records for goals and points in a season, scoring 30 times while doling out seven assists. Her 30 goals and 67 points that year alone would have broken the Heron career marks prior to her arrival on campus in 1984. The offensive fireworks earned her first team All-Region honors, as well as a spot on the NYSWCAA and NCAA All-Tournament teams. O'Gorman Menges led William Smith to a 49-23 record during her career, including a 19-4 mark in 1987 that saw the Herons finish second in the NCAA Tournament.