Inductee 2023 Terry Lowe Swim Coach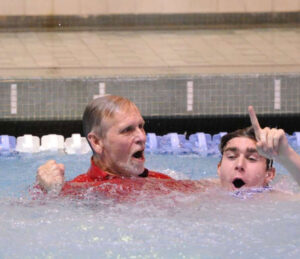 Coach Terry Lowe took over the Greenwich High School boys swimming program in 1967 and since the 1970-71 season, the Cardinals have won an astounding 46 FCIAC Championships, while finishing second once.
A member of the Connecticut Coaches Hall of Fame, FCIAC Coaches Hall of Fame and Fairfield County Hall of Fame, Lowe graduated from Dartmouth College and received his master's degree at Wesleyan University. He was hired to teach mathematics and coach swimming at Greenwich High School in the late 1960's and the rest is successful history.
Besides dominating the FCIAC championship meets, Lowe's GHS swimming squads have garnered an unprecedented 34 State Open titles and have captured more than 20 CIAC Class LL titles.